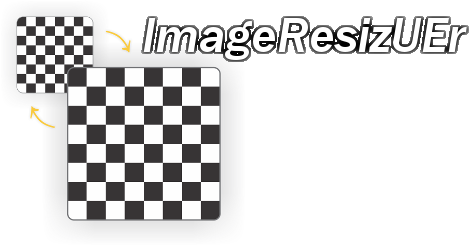 ImageResizUEr
A downloadable Unreal Engine plugin for Windows
ImageResizUEr resizes textures (up- or down-sampling) to match or approach a requested target size inside Unreal Engine without requiring you to export, run a secondary tool, then re-import them. Can either replace textures, or write them to a /resized_images/ directory, and can ignore textures that contain any of an editable list of word segments.
Includes full source, which should compile fine on osx and linux too.
Please use the (also free) Epic Marketplace version instead for more recent versions of Unreal Engine.



All my Unreal Engine 4 plugins are in maintenance mode. That means I'll update to new engine versions when I have time, but don't expect any new features to be added.
---
Uses public domain stb_image_resize by Jorge L. "VinoBS" Rodriguez
Download
Click download now to get access to the following files:
ImageResizUEr for 4.12
332 kB
ImageResizUEr for 4.13
292 kB
ImageResizUEr for 4.14
303 kB
ImageResizUEr for 4.15
270 kB
ImageResizUEr for 4.16
279 kB
ImageResizUEr for 4.17
264 kB
ImageResizUEr for 4.18
265 kB
ImageResizUEr for 4.19
278 kB
ImageResizUEr for 4.20
254 kB
ImageResizUEr for 4.21
257 kB
ImageResizUEr for 4.22
245 kB
ImageResizUEr for 4.23
258 kB
ImageResizUEr for 4.24
259 kB
ImageResizUEr for 4.25
261 kB
ImageResizUEr for 5.0
257 kB
ImageResizUEr source
119 kB